| | |
| --- | --- |
| Wing / Group: | |
| Air Division: | 26 Air Division |
| Location(s): | Castle AFB, Atwater CA |
| Dates Active: | 6 Sep 1959 - 09 July 1968 |
| Alert Det's: | |
| No. of Aircraft: | 67 |
| No. of Loses: | 2 |
| Complete Unit History: | PDF file |
The 456th FIS was activated at George AFB, CA in August 1954 with F-86D's. In August 1955 the unit was deactivated only to be reactivated again at Castle AFB in October 1955 with F-86Ds. In the fall of 1957 the unit transitioned into F-86Ls and in June 1958 into F-102As. In September 1959 it received F-106A's. The squadron along with its distinctive tail flash color markings moved to Oxnard AFB on 18 July 1968 and was re-designated the 437th FIS.
VISIT

COMMANDERS OF THE 456th FIS

Maj Kenneth Taylor 1944-1946

Maj James Macefield 1954-1955

LtCol Lee Lambert 1955-1957

LtCol Wm. 'Red' Miller 1957-1959

LtCol Roy Tweedie 1959-1960

LtCol James L. Price 1960-1963

LtCol John (Buck) Rogers 1963-1964

LtCol Wm. C. Jackson 1964-1966

LtCol John C. Marcotte 1966-1968

LtCol Jake Kratt 1st Commander Det 1 Fresno

LtCol Ted Feasel Commander Det 1 Fresno
LUTHER F-106 COMES HOME TO CASTLE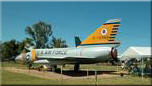 Visit 'Luther' 58-0793 On-display at the CAM, 57-2456 painted as 58-0793, 456th FIS
Visit the
CASTLE AIR MUSEUM
, Atwater, CA
August 11, 1967: 456th Fighter Interceptor Squadron sets ADC and US Air Force Records with 106 Missions in 6 Hours and only 18 aircraft
Newspaper articles & pictures from THE VALLEY BOMBER & THE MERCED SUN
courtesy of Tom Kline, February 17, 2003
"Now I really can't remember just who thought up the idea of flying 106 missions in 6 hours but it sure sounded like a good idea to me. Since the birds were going in for the modification of the IR System and the installation of the In-flight Refueling it sounded so logical that I gave some serious consideration to it. Six weeks with nothing to fly and all that time on our hands just begged for some sort of outstanding event to take place. I remember talking it over with Bob Colgan and Bunchy Plowden.
"Pat Gillespie, Buckey, Russ Greenberg, Bob Velle and Dale Chance. They were enthusiastic about the idea so I went to the maintenance shack ( Hell I lived there about half the time) and ran it up the flag pole. Most of the guys saluted and there were very few negative comments.
"We decided to start at 06:00 and progress from there with a call off time of 10:00 if it looked as if we couldn't make the target. Even the orderly room was in on it. They carried sandwiches and drinks too the flight line and made them selves useful wherever they could. The hardest part of the operation was deciding who would fly the T-33 as target, which took 4 crews ,since there was to be no time to switch targets and a constant stream of 106's would be airborne.
"We finally solved that by using B A Hansen in one and Bud Gresham in the other. This left the flight line a little short of officers but I had every confidence in our maintenance chaps. That was one decision that I never lived to regret. Servicing was complete and timely and cheerfully executed.
"Probably the one thing that I over looked was the development of the radar film and the grading of it. Poor Chuck Masuga and Bob Plowden did not get thru with the chore until 14:00.
"I never did go to NORAD or DIVISION or for that matter to the Sector. I figured that they would find 1,000 reasons why it couldn't be accomplished. So on my own we just pressed ahead. At about 11:40 the 106th mission landed, I think it was Peachy Keene, ( who damn near broke the sound barrier turning initial ) I decided to spread the news a little. Maintenance came up with 4 birds and we took to the skies bound for Hamilton AFB. However once there the tower denied us a low pass so all we could do was wave a little at them.
"I was fortunate enough to command the 433rd squadron in South East Asia and we flew a total of 746 combat sorties in 30 days but the feeling of accomplishment I had the day of the 106 missions was never challenged. To give a little perspective to this WE ONLY LOST ONE BIRD in the 3 years that I was there. That says a HELL of a lot for the quality of the maintenance guys that slaved and sweated and produced a quality product.
THERE WERE NO GROUND OR AIR ABORTS AND NO MAJOR MAINTENANCE PROBLEMS!
"WELL DONE YOU FINE AND GORGEOUS TROOPS!"
Lt. Colonel John C. Marcotte, U.S. Air Force (Retired)
Last Commanding Officer of the 456th. F.I.S.
2010 Jan Newsletter #14
2009 April Newsletter #13
2008 Jan Reunion/Challenge Coin
2007 NovNewsletter #12
2006 Feb Newsletter #11
2005 AugNewsletter #10
2005 Feb Newsletter #9
2005 Jun: Just News
2004 Nov: Reunion
2004 AugNewsletter # 8
2004 Jan Newsletter # 7
2003 AugNewsletter # 6
2003 MarNewsletter # 5
2003 FebNewsletter # 4
2002 NovNewsletter # 3
2002 AugNewsletter # 2
Links